I don't know about you, but I'm ready for spring and summer!
Ohio is going through an identity crisis right now, (one day it's 70 degrees and the next it's snowing...), which only makes me long for warmer weather all the more.
In less than one month, I will be on the beaches of Destin, FL for our spring break, which got me to thinking about about what I'll be packing, which got me to thinking about what the style trends are for spring and summer 2012.
In case you were wondering the same thing, I did a little research and put some things together for you! (And you will be glad to know that all the items are under $50!).
This first collection is all about lace and the style from the roaring 20's! You'll be seeing Peter Pan collars, fringe, lace, and dropped waists. Don't be afraid to throw on the pearls, too!
The next trend is all floral! I'm not a huge fan of florals, but if done is small doses, they can add a feminine flair to any outfit!
African prints and styles are definitely going to be seen this spring and summer. But don't overdo this trend. If you have a solid dress, add a pair of animal print shoes or clutch. I liked these pieces because they give off the African/Safari feel without being too much.
It should come as no surprise that Pastel's are back in style. I mean, how can you not be happy when you see these soft and pretty shades? But again, be careful not to go crazy. You don't want to look like a bridesmaid gone bad...you just want to be in style. Try a nude shoe with a pastel dress or a few simple pastel accessories.
The last trend is color blocking. It has been around for a while, but don't be afraid to take it a step further this spring, especially since 60's/Mod style is also trending.
There you have it! So tell me, will you be trying out any of these Spring/Summer Trends, and if so, which ones?
I will be linking up with Real Momma Real Style at Momma Go Round, and What I Wore Wednesday at The Pleated Poppy. Be sure to check them out!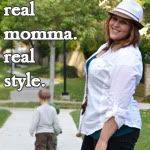 Pin It