Today I thought I would share some blog love by introducing you to some of
my
favorite fashion bloggers.
Maybe you already follow them, or maybe you've never heard of them. Either way, be sure to click over and check them out today and get some style inspiration of your own!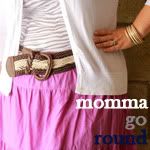 Momma Go Round is one of my All Time Faves! She is a curvy gal and she inspires me to accept and love my body for what it is,
and
to dress it up! She has great style tips and she is HONEST and REAL, which I adore!
Jod A La Mode is another one of my Faves! I don't know if she would consider herself a "fashion" blogger per say, but she always participates in What I Wore Wednesday and I make sure to catch her post every week because she puts together the BEST outfits!! Plus, she's hysterical. It's one of those blogs that I go to when I want to smile :) In fact, if she lived closer, I'm sure we'd be great friends!
If you read blogs and you haven't heard of The Pleated Poppy, then you must live under a rock. Lindsey started the What I Wore Wednesday craze and it has taken over! I love checking in each Wednesday to see what she's wearing and she also has a link-up so that I can peruse lots of other ladies who are showing off their fashion skills. Make sure to check out this link-up at least once. You will be AMAZED at how many women are joining this party and all the great fashion that's out there!
This gal inspires me to take chances and go BOLD! I LOVE her style and envy her wardrobe. She is too cute and I am hooked on seeing what she's wearing everyday!



This is a Great blog that celebrates a unique style on a budget. I love her 'No Fear' attitude! I mean, a baseball cap with a pretty dress? YES!!!!!
Caitlin, from Greater Than Rubies, has a more classic style, which I appreciate since that's the look I tend to wear most often. She is great at mixing the old and new to make a great looking outfit that looks like a million bucks.
This gal is Fabulous!! Plus, she loves accessories as much as I do, (and that's sayin' something!!). I love the way styles herself and all the great finds and ideas that she shares with her readers!