It's Here!
The
Monday Soup Swap
has officially begun!
AND,
to start it off, I am sharing one of my favorite soup recipe's with you!!
Easy Peasy Slow Cooker Chicken Tortilla Soup:
3-4 frozen Chicken Breasts
2 cans of diced tomatoes (or 2 cans of rotel, which makes it a little spicier).
1 can of corn
6 cups of chicken broth
1 pkg. of taco seasoning
1 pkg. of ranch salad dressing seasoning
1 can of cream of chicken soup
Tortilla Chips
Shredded Cheese
Sour Cream (optional)
Chopped Cilantro (optional)
Place the chicken breasts in the bottom of the slow cooker. Then, go ahead and pour the tomatoes and corn over the chicken. After that, you can mix the chicken broth, cream of chicken soup, ranch seasoning and taco seasoning together, and pour over the chicken.
(or do it in reverse order...it will taste exactly the same. It's almost impossible to mess this one up!)
Cover and simmer on low for 3-4 hours or until chicken is cooked through.
Remove chicken breasts and shred them with two forks. Place them back into the slow cooker, stir, and cover. Cook on low for another 30 minutes.
Place tortilla chips in a bowl, sprinkle a little cheese on them
(or a lot if you're like me!),
and ladle the soup over the chips.
You are now about to get the most melty, gooey, yummy cheese....mmmmmm.
And, just before I eat it, I like to place a small dollop of sour cream on top. It gives it that little extra creaminess. And if you're
REALLY
feeling crazy, go ahead and add some fresh snipped cilantro!
There you have it!
Now it's time for you to share a yummy soup recipe!
Link up below the direct link to your soup post.
And after you link up, make sure to visit some of the other links too...we could all use another soup recipe and a little blog love!
Oh! And while you're at it, go ahead and grab the Monday Soup Swap button below and add it to your page to let your readers know you linked up!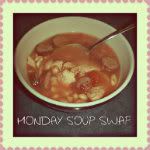 And just so you know, I'LL be linking up at Still Being Molly,
and at The Brassy Apple