Doesn't everyone love soup??
I know I do!
In fact, during the fall and winter months, we have it
at least
once a week.
One of the things I love most about soup is that it makes a lot and I can eat it one night for dinner, and eat the rest of it all week for lunch.
OR
, I can serve half for dinner and freeze the rest for another week.
And BTW, I consider all chili's and stews a soup also. So
LOTS OF STUFF
can fall into my soup category!
And the thing is, I can never get enough soup recipes. I would love to try a new soup each week!
Which has lead me to the decision to start a
Soup Swap
on the blog!
Next Monday
will be the official kick-off! You'll be able to link up all of your soup recipes and share with the soup loving community!
It can be an old or new blog post, but make sure you're linking up your *own* recipe.
(ie, don't link up someone else's blog post please!).
And be creative.
It can be a detox soup, your grandma's favorite beef stew, or a chilled soup.
Whatever it is, link it up so we can check it out!
And if it goes well, who knows...
maybe The Monday Soup Swap will become a regular link up
.
So get to cookin'!! (and maybe take some pics too)
And we can all be eating delicious soup all winter long :)
I am linking up with We Are THAT Family for WFMW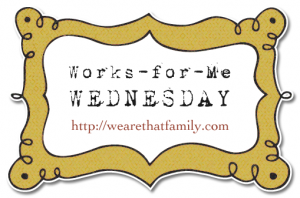 Add caption